Subscription boxes are all the rage right now. You can get everything from clothes to dog toys, from beauty products to coffee beans, delivered right to your doorstep every month. They're perfect for people who like to try new brands (and have a disposable income!). And once you start down the subscription box path, it's easy to get addicted (trust me, I know from experience).
But for those of us who can't afford all the boxes every month, which one should we choose? I tried out Wantable this month, so I could share the experience with you. (Thanks to Wantable for partnering with me and providing my edit with a waived styling fee for this review. As always, all opinions expressed here are my own, regardless of partnerships.)
About Wantable
Wantable describes itself as, "an online lifestyle service for busy people on the go." Basically, it's a subscription service similar to StitchFix or Trunk Club– a stylist selects 5-7 items to be included in your "edit" (the term they use for your box of clothes) and shipped to your door. You get to try everything on, decide what you want to buy and keep, and mail back the rest. You're only charged for the items you decide to keep.
There is a $20 styling fee charged for each edit you're sent, but that $20 is then applied as credit to anything you decide to keep. So as long as you buy something, the service itself is free to use. Shipping and return shipping are free.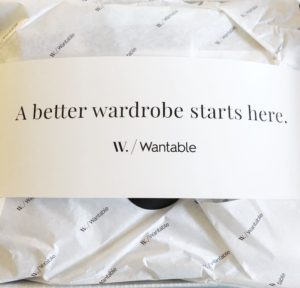 How Wantable Works
Wantable offers three types of edits: Style, Fitness, and Men's Fitness. I love that they offer an alternative to "everyday" clothes with their fitness edit. I'm a yoga teacher– workout clothes ARE my everyday clothes! And even if you aren't– the athleisure trend is real and sticking around. Wantable offering your choice of either is genius.
You're able to indicate how often you'd like different types of apparel to appear. For example, if you only wanted to receive shirts and tops in your edit, and never pants, skirts, or dresses, you can choose that! If you want accessories to be included like jewelry and sunglasses, but never purses or handbags, you can choose that. You also get to be in control of the price range of your pieces. If you think dropping $100 on a pair of yoga pants is ridiculous, you won't receive any $100 yoga pants. If you're of the "higher price = higher quality" mindset, they've got you covered too.
My Edit
Naturally, I chose the Fitness edit (I couldn't tell you the last time I wore pants with zipper). Because the lifestyle quiz I took upon signup was so thorough, my stylist was able to do an excellent job of choosing pieces that fit my style. Here's a few photos of what I received: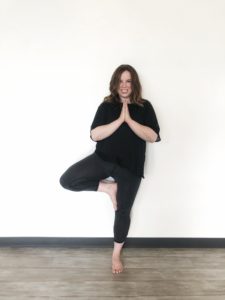 Perfect for yoga! These pants from Free People were as soft and comfy as pants can get. And the black technical shirt was softer than most moisture- wicking fabrics.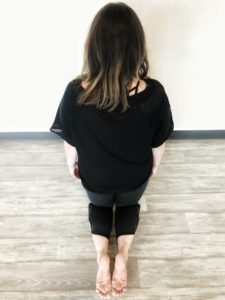 A closer view of some of the shirt's details: asymmetry, mesh panels, and embellished sleeves.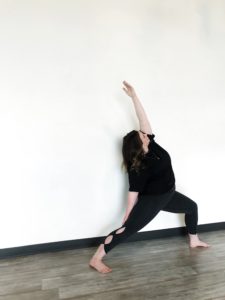 Side view to show the cut out details on the world's softest yoga pants.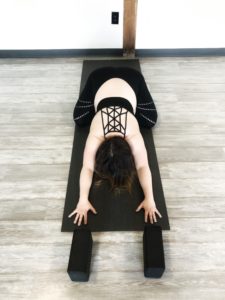 How gorgeous is the back of this sports bra? It's perfect for peeking through low back or open back shirts. And these pants… I get so many compliments on these pants! The cut out details make these yoga pants super fashionable.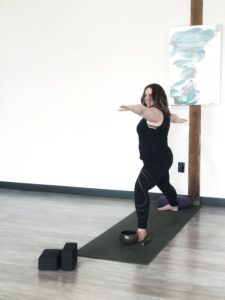 Another view of the super cute black yoga pants. Paired with a black tank with strappy detailing under the arms.
Athleisure to Street Style
The best thing about the pieces in my Wantable fitness edit is that they can be styled for studio or street. Yes, they're all pieces that you could wear during a fitness class… but you don't have to. They look great outside the gym as well.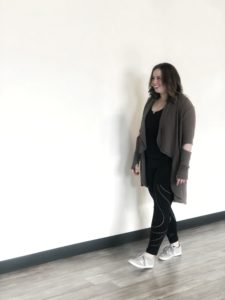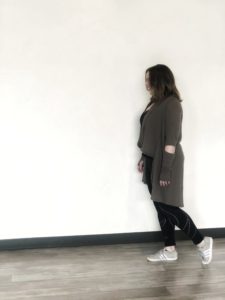 Pairing this (SUPER SOFT) cardigan from my edit turns my outfit into athleisure wear ready for errands or a brunch date. (Note: shoes were not a part of my Wantable edit.)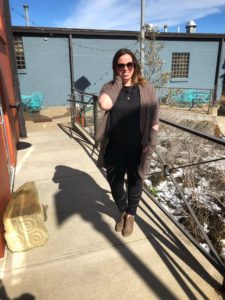 Or, the same exact outfit paired with a pair of ankle booties (also not a part of my Wantable edit) takes the outfit straight to street style.
The Verdict
If you're ready to try some fashionable finds without having to leave the sofa (or the elliptical!), give Wantable a try. I found the pieces included in my edit to be versatile, comfortable, and fashionable.
Want to try it? My readers get 50% off their styling fee (making it only $10, which will apply as a credit to anything you purchase from your edit) by following this link to the Wantable site.
If you do give Wantable a try, be sure to let me know! I want to hear about your edit and what pieces you decide to keep!