It seems like all anyone can blog about these days is the Nordstrom Anniversary Sale. But for good reason! The Nordstrom Anniversary Sale is so awesome because it features brand new fall items ON SALE! When else can you buy next season's fashions on sale? I'll tell you when: never. Hence, why we all adore the Anniversary Sale so much.
So many things sold out during the Early Access for Nordstrom cardholders (and I'm not one!), but I rounded up the best of what's left for you! But don't delay– prices go back up on August 7th!
And yes, these are all things I loved so much that I scooped them up for myself.
FASHION
BP Ruffle Bell Cuff Sweater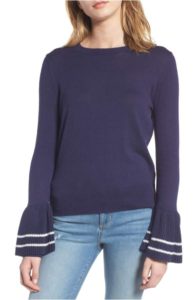 Influencers everywhere went nuts over a grey and yellow version of this sweater. But you know what? I prefer the navy and white option. It will be so cute as a transition to fall piece with white shorts, and then all fall long with a cute skirt and booties, or casual with jeans.
Find it here: Ruffle Bell Sleeve Sweater
BP Boyfriend Watch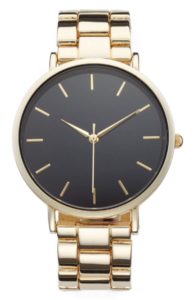 This watch is under $16. What?? It's a perfect piece for everyday wear, and perfectly on trend. It also comes in silver with a white marble face… I had a hard time choosing which one I wanted! But at under $16, I probably could have gotten both!
Get it here: BP Boyfriend Watch
HOME
Cable Knit Cotton Throw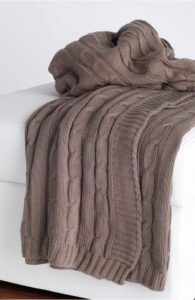 I can't wait for this 100% cotton, cable knit throw from Rizzy home to arrive in my mailbox. I chose the "mocha" color shown here, but there are over 15 colors from which to choose! I love that it's machine washable, and it's a steal at under $40.
Get yours here: Cable Knit Throw
400 Thread Count Organic Cotton Sateen Sheet Set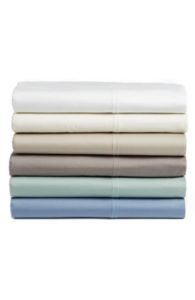 Anyone who knows me knows that I have an obsession with linens. I LOVE nice sheets, and having lots of them. #sorrynotsorry. So naturally, I was pumped when I saw that these 400 thread count, organic cotton sheets were part of the Anniversary Sale. I've never bought sheets from Nordstrom before, and the organic line is new, but the reviews for their regular 400 thread count cotton sheets were so good that I wasn't even nervous buying them! I went with a classic, crisp white.
Find them here: 400 Thread Count Organic Cotton Sateen Sheet Set
DKNY Mixed Media Tissue Box Cover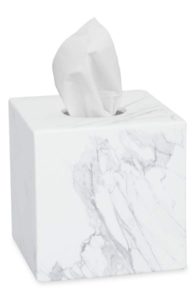 How cute is this tissue box cover from DKNY?! I've never in my life owned a tissue box cover, but this marble one is so cute, I just couldn't resist. It's under $20, and will look so perfect sitting on my bathroom windowsill. AND, there's a whole line of matching bathroom accessories (I may or may not have also gotten the matching toothbrush holder!).
Find it here: DKNY Mixed Media Tissue Box Cover
ACTIVEWEAR
Because a girl can never have enough athleisure, amiright?
Zella Live In High Waist Leggings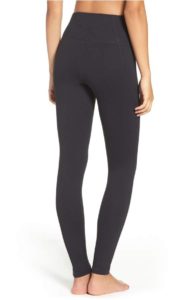 These Zella leggings have a cult following, so to find them on sale is something to be celebrated. They are flattering and comfortable for just about anyone who wears them. I got them in black… and I also got a pair of the cropped version in blue! They're normally over $50, and they're on sale for under $36– so stock up now!
Get yours here: Zella Live In High Waist Leggings
Zella Flex Sports Bra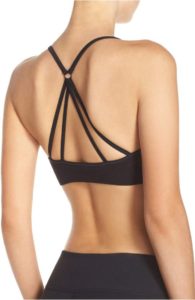 I can't wait to wear this cute sports bra to yoga (or just out running errands!). The detail on the back is lovely, and at less than $30, way cheaper than other yoga brands. Plus, if you buy two, the discount is even steeper– you can get two for under $50.
Find it here: Zella Flex Sports Bra
The North Face "Resolve Plus" Waterproof Jacket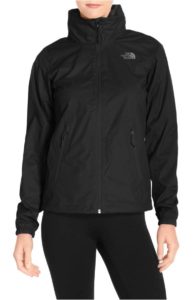 I've been needing a new rain jacket, so I was ecstatic to find this one from The North Face for sale, and under $70 at that! It has a hood which can be zipped up into the collar, and it's all black and sleek looking. It's so hard to find fashionable rain gear, so this jacket is perfect!
Get one here: The North Face "Resolve Plus" Waterproof Jacket
And that's it, folks! Now get to shopping before everything gets scooped up. Let me know in the comments what you chose for yourself! Happy finding!