A round-up of all the things I'm loving this month. Because let's face it– while happiness cannot come from material goods alone, sometimes they can help make your life better, easier, or prettier! And that's something to be happy about. Enjoy!
I have been carrying this gorgeous water bottle around with me everywhere! It's one of those double-walled, stainless steel bottles that will keep cold drinks COLD for 24 hours, and hot drinks HOT for 12 hours… but at a waaaay better price than that other brand (hey, I love a deal!). It doesn't break (trust me, I've dropped mine plenty) and is slim enough to fit into most any bag or cup holder. My favorite part? The way it feels! It's got that lovely matte finish that is so smooth and nice.  If the white granite look isn't your thing, there are over a dozen more colors and styles from which to choose.
Stay hydrated, friends. Get one for yourself here.
I bought this baby during Amazon Prime Day… and boy am I glad I did. She's amazing. She plays my music, she wakes me up, she answers my questions… it's basically like having a live-in butler. Except I can walk around in my underwear and she can't tell anyone, ha! It's a big purchase, yes, but for me it was worth it. If you've been on the fence about the Echo, I'd say go for it!
Want to read (lots) more about the Echo? Go here.
The day I started using this product, my hair rejoiced. It's a leave-in conditioning spray that smooths, detangles, stops frizz, and adds shine. Pronounced dah-vin-ess (it's Italian, dahling), the brand has a cult following in the beauty world. It smells so good (and so expensive), which I credit to the roucou oil. I can't wait to finish my current bottles of shampoo and conditioner, so that I can have an excuse to buy more Davines products! Seriously though, this product is a game changer for anyone who battles frizz, dullness, or tangles. I can tell a difference in my hair on the days I don't use it.
Want to smell (and try!) this wonderful goodness for yourself? Get yours here.
Speaking of the quest for gorgeous hair… these vitamins. When I go through periods of high stress, my hair stops growing. It's the worst, and my friends have heard me complain about it. I owe my hair stylist a huge THANK YOU for suggesting these little babies to me. They are helping my hair grow, truly. I've tried other hair/biotin vitamins and didn't see a discernible difference, but a few weeks into taking these Olly gummy vitamins, I could tell they were working. My friends could tell too! Bonus– they taste yummy.
Go here if you're ready for long, luscious locks.
Now that I'm a blogger (praise hands emoji!), I need a place to keep it all together. Because Lord knows my head isn't going to do the trick on its own (crying laughing cat emoji). This journal is basic and blank, but somehow it does the job perfectly! The pages are like graph paper, which makes it perfect for lists, columns, organizing, etc. It's big enough to be useful, and small enough to easily fit in my handbag. I literally take it with me everywhere now (you never know when inspiration will strike!). Shout out to my girl Adrienne for introducing me to this notebook (check out her blog, she's full of great ideas).
Get one here and get all your thoughts in one place.
In my Nordstrom Anniversary Sale post, I raved about Zella's Live In Leggings. But guess what? These are even BETTER. I love them so much that I ordered a second pair in black. They are soft, comfy, and basically feel like wearing air. And they're called "Keep It Cool" for a reason– they're perfect for these hot summer days. They're cool, breathable, and basically perfect. The Anniversary Sale isn't over yet, so grab yours now before prices go back up!
Get 'em while they're cheap, here.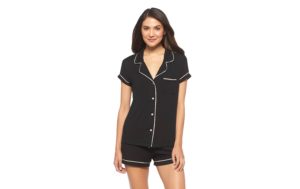 Lastly, these super sweet PJs from Target. I love them because they look like classic, New England style pajamas, but they are soft, stretchy, and comfy. And most importantly, they have shorts and short sleeves! I hate being hot when I sleep, but adore the old-school vibe, and these pjs give me the best of both worlds.
Get yours here, and be cute and comfy while you slumber.
And that's the Love List for August! What are you loving right now? Let me know– I love trying new things!